The Wardle Canal is often called "the shortest canal in Britain" (110 yards including Wardle Lock, according to Jean Lindsay's history of the Trent & Mersey Canal, but only 154 feet according to a 2001 plaque on the entrance bridge). It was originally built as the Wardle Green Branch of the Trent and Mersey Canal, but the entrance bridge is inscribed "Wardle Canal 1829". It was built so that the Trent and Mersey Canal could charge heavy compensation tolls on all traffic between their canal and the Middlewich Branch of the Shropshire Union Canal. (Photos: Roger Evans)
2012 Funeral 2013 Unveiling 2014 Work Parties
Friday 30th March 2012 – Funeral of Maureen Shaw
Maureen Shaw lived in Wardle Lock Cottage for many years. She was an ex-working boatwoman and delighted in looking after Wardle Lock. In fact many regular boaters called it "Maureen's Lock", as she didn't suffer fools gladly. Maureen was also a long-term friend of our society, so many members attended her funeral. Her coffin was taken by boat from outside her house to Middlewich Town Wharf (which is just across the road from the church).
| | |
| --- | --- |
| | |
| In Wardle Lock | On the Wardle Canal |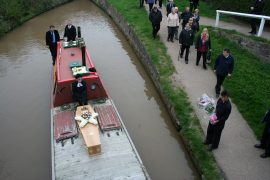 Passing under Wardle Canal entrance bridge
Saturday 23rd March 2013 – Unveiling of Maureen Shaw's Interpretation Panel
On a bitterly cold day, the "Maureen Shaw" interpretation panel at Wardle Lock, Middlewich (know to many as "Maureen's Lock") was unveiled by her daughter Sharon Underwood, who had flown in from Thailand especially. Peter Bolt (of IWA Chester) spoke first thanking all the people and organisations who had contribute towards the panel, before local MP Fiona Bruce gave a potted history of Maureen's life. Gillian Watson then regaled us with her personal memories of her friendship with Maureen. Finally Benny Graham sang "It's a Hard Life for a Girl on the Cut" which had been played at her funeral. Appropriately enough the first boat for an hour passed through the lock as the music finished and Sharon unveiled the panel. Tea and light refreshments were very welcome, and warmed us all up nicely. There was also an exhibition of memorabilia.
| | |
| --- | --- |
| | |
| Peter Bolt introduces | Fiona Bruce MP talks |
| | |
| Sharon Underwood unveils | Gillian Watson presents boat |
| | |
| Horse, Panel and Banner | Panel |
Wednesday 30th April 2014 – Wardle Lock Working Party
The first of 3 working parties to improve the appearance of Wardle Lock and its surrounding area. This lock is on the very short Wardle Canal (which connects with the Shropshire Union Middlewich Branch), and Wardle Lock Cottage is where Maureen Shaw used to live.
We had really good weather, and twenty people turned out, so lots was done. Taking advantage of the good weather we painted the woodwork and metalwork of the gates, as well as various fences and signs. The off-side steps were also exposed, and will be tidied up next time.
| | |
| --- | --- |
| | |
| Top Gate | Bottom Gates |
| | |
| Tail Bridge | Offside Steps |
Wednesday 14th May 2014 – Wardle Lock Working Party
We had really good weather again, after a week of almost constant rain. Over a dozen people turned up, so lots got done. A second coat of white was put on the balance beams, and some railings to the next bridge were also painted. The principle job was to expose and tidy-up the offside bank. Such a massive change was made that it looks like a different place!
| | |
| --- | --- |
| | |
| Starting to tidy Offside | Cutting from the Boat |
| | |
| Progress (from Bridge) | Progress (from Offside Bank) |
| | |
| Clearing area by Bridge | Offside Steps at end of day |
| | |
| Full Work Boat in Wardle Lock | Very neat Offside Bank |
Wednesday 28th May 2014 – Wardle Lock Working Party
The final planned working party had to be cancelled because of heavy rain on the day. Instead we finished off the work later in the year.