In Autumn 2018 we moved all our regular meetings (except AGMs) to the Red Bull Hotel, Church Lawton, near Kidsgrove. It has a large car park and, as you can see from the photo below, it is alongside lock 43 of our canal. The full address is Congleton Road South, Church Lawton, ST7 3AJ Telephone: (01782) 782600 . See their own website for more details.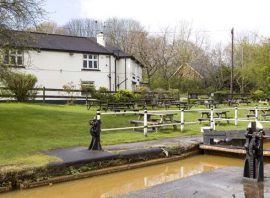 We hold regular monthly talks during the winter with a variety of speakers. We also occasionally hold social meetings + our annual AGM. See below for details of this Season. For news of any meetings (and any other events) in the near future see our Diary of Events.
Archive pages contain Reports of Talks, Reports of Socials and Reports of AGMs .
This Season of Talks
19/11/2021

More Spot-The-Locks

Another miscellany of pictures, stories and oddities from 50 years of navigation of the Waterways. Maybe triggering some additional thoughts or contributions from the audience.

Peter Scott

21/01/2022

The changing scene and history of the Shropshire Union canal

The history and construction of the Shropshire Union canal – Part 1 from Nantwich basin to Ellesmere Port (images from 1967 to 2019 of buildings that no longer exist or have a new use) + Part 2 from Nantwich basin to Autherley Junction on the same theme.

Ian Wilson

18/02/2022

Postponed to 18/03/22 by Storm Eunice

Warrington Transporter Bridge

Margaret is Chairman of the Friends of Warrington Transporter Bridge and will tell us why there is a transporter bridge in Warrington, about the other transporters in the world, what the future might hold for this local little known Scheduled Monument, and how you can help.

Margaret Ingham

18/03/2022

Malcolm will talk on 21/10/22

Ampère in Ireland

Illustrated talk on the Irish waterways based on a year spent there in all-electric narrowboat Ampère. (Almost exclusively about the Irish waterways and not electric boating.)

Malcolm Bridge