In Autumn 2018 we moved all our regular meetings (except AGMs) to the Red Bull Hotel, Church Lawton, near Kidsgrove. It has a large car park and, as you can see from the photo below, it is alongside lock 43 of our canal. The full address is Congleton Road South, Church Lawton, ST7 3AJ Telephone: (01782) 782600 . See their own own website for more details.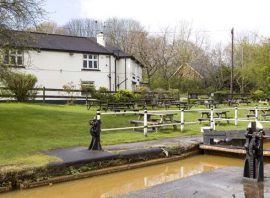 We hold regular monthly talks during the winter with a variety of speakers. We also occasionally hold social meetings + our annual AGM. See below for details of this Season. For news of any meetings (and any other events) in the near future see our Diary of Events.
Archive pages contain Reports of Talks, Reports of Socials and Reports of AGMs .
This Season of Talks
Currently (June 2021) there is no news on whether we will be able to hold our Winter Season of talks (due to start on October 15th) at Red Bull Public House. We are unlikely to get a decision from the landlord until all remaining restrictions have been lifted, but will update this page once we have more news.
It is still our intention to holds talks on our usual "third Friday in the month October to March (except December) ".