For background information see the main Cheshire Locks Project website www.cheshirelocks.org.uk (opens in a new window)
For news of future working parties see our Diary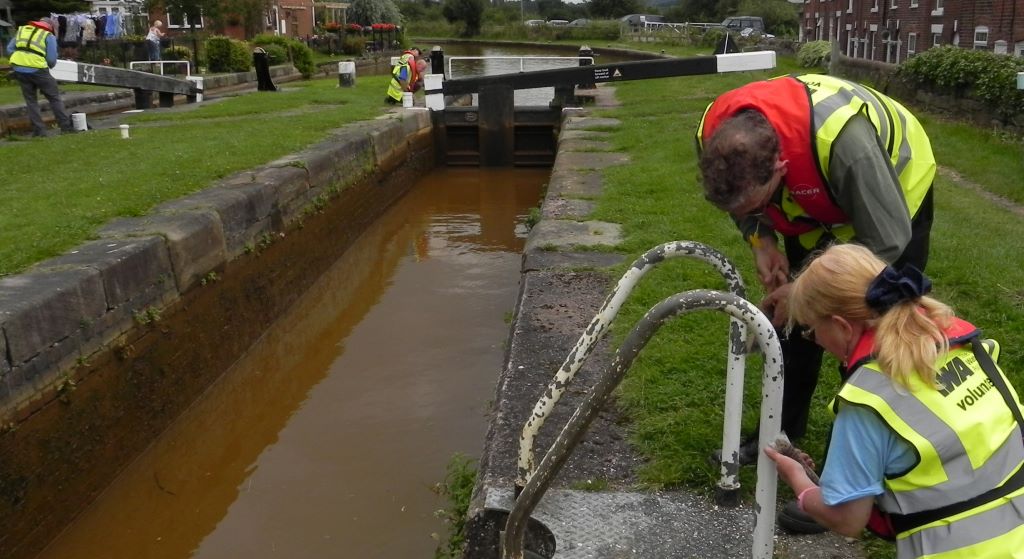 Our Treasurer and Secretary at our first work party in 2012 (Photo: Alison Smedley)
Cheshire Locks work parties currently take place on the third Thursday of each month except December. They start at 10 am and finish by 3:30pm (usually 3pm in Winter). You can turn up just for the morning or the afternoon, but why not come for the whole day and bring a packed lunch. All tools will be provided – you only need to wear stout shoes and bring waterproofs in case of rain. Please email the working party organiser John Lawson (or phone him on 07940 878923) for more details.
To see reports on all our previous work parties, follow the links below
NOTE: The pages for 2013 and 012 have not yet been moved from our old ARCHIVE site, so they look different (and are also in reverse chronological order!) Also, links in the table below to these pages only point to the year, not to the relevant month.
If you want information about when we worked on a particular site, and what we did there, then check the table below which lists all our work-sites, starting from the top of the flight. Each entry has links to the report for the the relevant month when we started/finished work at a location.
Location + CRT Name of Lock + (if different) LMS ex-North Staffs Railway name as at 1942
Usable Locks
(+ Status of others)
Total 43 (+7 other)
Work Started
Work Completed
(or Left)

Lock 41 Plants

(Hardingswood)

2

July 2017

Lock 42 Limekiln
(Furnace Pool)

2

April 2017

Lock 43 Red Bull

1
(+ 1 Infilled)

August 2016

Red Bull Yard
– Car Park & Garden

N/A

Lock 44 Yewtree
(Yew Tree)

2

Lock 45 Kents
(Kent's)

2

Lock 46 Townfield
2
June 2015
September 2015

Lock 47 Church Top
(Church Upper)

1
(+ 1 Derelict)

August 2017
November 2017

Lock 48 Church Bottom
(Church Lower)

1
(+ 1 Out of Use)

August 2017
November 2017

Lock 49 Halls
(Hall's)

2

August 2013
February 2019
September 2013
April 2019

Lock 50 Lawton Top
(Lawton Upper)

2

Lock 51 Lawton Middle

1
(+ 1 Infilled)

Same month

Lock 52 Lawton Bottom
(Lawton Lower)

2

Same month

Lock 53 Thurlwood Top
(Thurlwood Upper)

1
(+ 1 Removed)

Lock 54 Thurlwood Lower

2

Rode Heath
– Picnic Area & Bridge

N/A

Lock 55 Pierpoints Top
(Pierpoint's Upper)

1
(Never doubled)

Lock 56 Pierpoints Bottom
(Pierpoint's Lower)

1
(Never doubled)

Lock 57 Hassal Green Top
(Hassal Green Upper)

1
(+1 Infilled)

Lock 58 Hassal Green Bottom
(Hassal Green Lower)

2

Lock 59 Maddocks
(Ellison's)

2

2

lock 61 Cardboard
(Garden)

2

Lock 62 Pavilion
(Hibberd's)

1
(+1 Cascaded)

Lock 63 Clear Water
(Malkin's Bank Upper)

2

April 2014

Lock 64 Saw Pit
(Malkin's Bank Lower)

2

April 2014

Lock 65 Wheelock Top
(Bidner's)

2

November 2019

Lock 66 Wheelock Bottom
(Wheelock)

2

Wheelock Wharf
– Building & Area

N/A

Same month