2013 Working Parties
(Note that clicking on a small picture will show that picture larger)
(All photos © Bob Luscombe, unless otherwise shown)
Click on a link below to go directly to that month (or just scroll down)
January February March April May June July August September October November
Saturday 19th January 2013 – Work Party had to be cancelled because ice and snow made the ground dangerous.
Tuesday 19th February 2013 – A fine almost spring like day greeted volunteers. The final coat of paint was applied to the railings at Lock 53 (Thurlwood Upper). The picnic area opposite the Broughton Arms in Rode Heath was tidied up, vegetation cleared, and we started weather-proofing the seats, benches and a length of railing, We finally finished off the lock and bollard painting back at Lock 54.
| | |
| --- | --- |
| | |
| Work starts on the black paint | Weather-proofing Picnic Area tables |
| | |
| 4 TMCS members + 2 CRT staff at lunch | After |
Our two newest members Eddie & Shirley Kingswell (who had only joined the Trent & Mersey Canal Society the previous week) came along and helped all day. We even found time to have a drink and chat together at the Broughton Arms afterwards. (photos: Roger Evans)
Saturday 16th March 2013 – Unfortunately a combination of early poor weather and other commitments for many of the regular volunteers meant that numbers were down on this occasion. However undaunted, the volunteers who turned out for the day did a great job in transforming the area around bridge 140. Vegetation was cleared from the edges of the bridge, and posts and rails were given a fresh coat of paint. A number of local residents passing by made very positive comments with regard to the work completed.
| | |
| --- | --- |
| | |
| Bridge 140 work in progress | Afterwards |
In addition, the work started at the picnic area last month continued and provides a welcoming site for visitors and local residents alike. (photos: Jan Bigley)
Tuesday 16th April 2013 – Work started on the Church Lawton flight today, beginning with the bottom lock (Lock 52). (photos: Roger Evans)
| | |
| --- | --- |
| | |
| Lock 52 Top Gates before | Lock 52 Top Gates after |
Thursday 30th May 2013 – Another warm and sunny day as the regular Cheshire Lock volunteers (supplemented by a number of new volunteers) arrived at Wheelock Wharf on the Trent & Mersey Canal to undertake a 'clean up' work party in advance of the planned Wheelock Community Day organised by the local IWA North Staffordshire and South Cheshire Branch for June 8th. This month's work party saw the group undertaking vegetation work around the former stables and in the Wharf area uncovering the former wharf crane area and wharf moorings. In addition volunteers painted the stable doors, the Services doors and other woodwork around the Wharf area. The end result showed a much smarter picture; so many thanks to the volunteers who came along for the day and also to CRT for usual support in terms of materials.
| | |
| --- | --- |
| | |
| Work in progress | Crane Base |
| | |
| Edging the Grass | Finished Paintwork |
Thursday 18th June 2013 – Yet another warm and sunny day as regular IWA Cheshire Lock volunteers supplemented by a number of new volunteers returned to Lawton Locks on the Trent & Mersey canal for the monthly Cheshire Locks work party. This month's work party saw the group undertake vegetation work and painting the lock gates and railings at Lock 51. After a good deal of hard work and effort, the end result was a much smarter set of locks with the cobbles on the towpath once again fully displayed.
| | |
| --- | --- |
| | |
| Lock 51 Clearing Cobbles | Lock 51 Towpath Ramp |
| | |
| Lock 51 Ladder and Top Gate | Lock 51 Bottom Gates |
Saturday 20th July 2013 – Volunteers returned to the Cheshire Locks for another work party painting locks vegetation and cobble setts clearing. On another warm and sunny day, a group of volunteers spent the day working on Lock 50 (Lawton Locks). After another day of hard work and effort, the end result showed a much improved set of cobbles on the towpath, and with those around the lock once again fully displayed.
| | |
| --- | --- |
| | |
| Lock 50 Bottom Quadrant started | A closer view |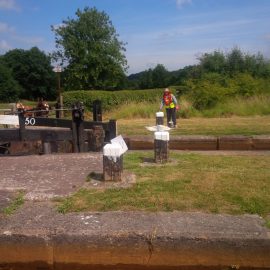 Bollards with Wet Paint Signs
Tuesday 20th August 2013 – We painted and painted at Lock 50 (Bollards, Gates, Railings …), and we even found time to get started on the gates at Lock 49. One volunteer managed to reach the isolated bollard on the centre island below the lock by getting a lift across to it on a passing boat. Unfortunately once he was finished painting there wasn't a passing boat to get back ashore! (photos: Margaret English)
| | |
| --- | --- |
| | |
| Painting Bollard | Finished, but stuck on Island |
Saturday 21st September 2013 – We finished the work started last month at Lock 49.
| | |
| --- | --- |
| | |
| Lock 49 Bottom Gates offside Lock | Starting Bottom Gate |
| | |
| Lock 49 Bottom Gates nearside Lock | Clearing Quadrant |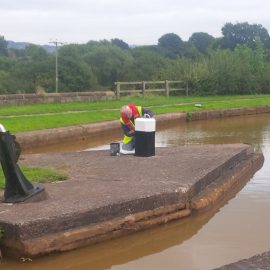 Painting Bollard on Centre Island
Tuesday 15th October 2013 – The residents of Malkins Bank near Sandbach asked if we could do some work on their four locks. These locks were in a very poor state of repair and much of the metal railing and fencing surrounding the locks was very corroded and rusty. The cobble setts had become very overgrown to a point where they were almost obscured. Much of the day was spent rubbing down and preparing both the gates and metalwork for painting, as well as starting work on the cobble setts. Finally a first coat of paint was put on the lock gates and, by the end of the day, the first impression of these locks to boaters and other towpath users had been very much improved.
| | |
| --- | --- |
| | |
| Lock 63 Bottom Gates | Lock 63 Centre Island |
| | |
| Painting Balance Beam | Painting Bollard |
Saturday 16th November 2013 – A smaller but nonetheless enthusiastic group continued the work and the weather being unsuitable for wood painting concentrated on the metalwork. The long metal rail running the length of the locks was prepared and then painted with metal rust inhibiting paint. Further vegetation work was also carried out and whilst further work is needed, the overall impact shows a much improved set of locks.
| | |
| --- | --- |
| | |
| Warning Sign | Lock 63 Railings nearly finished |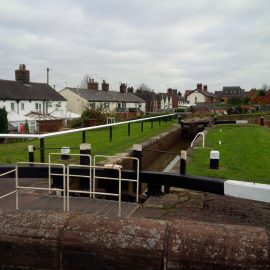 Finished railings from Bridge
Click on a link below to go directly to that month (or just scroll back up)
January February March April May June July August September October November