2014 Working Parties
(Note that clicking on a small picture will show that picture larger)
(All photos © Roger Evans, unless otherwise shown)
Click on a link below to go directly to that month (or just scroll down)
January February March April May June July August September October November
Saturday 18th January 2014 – A very mild day, but the threat of rain meant we didn't try to do any painting. Instead we concentrated on exposing the cobbles at Malkins Bank locks 63 & 64. All eight bottom gate quadrants (both locks being paired) were exposed, but there is more work to be done on the towpath ramp below lock 64 as we had to finish early at 2pm. This was because Bob Luscombe wasn't able to supervise, having strained his back bathroom cleaning! Luckily Hazel Mayow (of CRT) was able to supervise instead (but only until 2pm). She was assisted by Steve Wood & Roger Evans (the chairmen of IWA NSSC and T&MCS).
| | |
| --- | --- |
| | |
| Bottom of Lock 64 before work | Bottom of Lock 64 an hour later |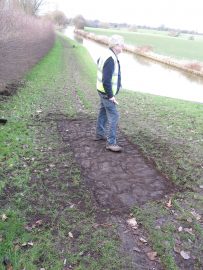 Lock 64 Towpath Ramp partially uncovered
Tuesday 18th February 2014 – A rare fine day saw over 10 of us hard at work painting the metalwork on Malkins Bank lock 63. Unfortunately the wood was still too wet to paint. Also more cobbles were uncovered at lock 64.
A new use for an old milk container

Lock 63

Old Bollard freshened up

Lock 64 Lots more cobbles exposed

Lock 63 Five of us painting railings etc

Lock 63 The difficult bit round the back

Lock 63 Three painting gate fittings
Saturday 15th March 2014 – After several wet months, the dry weather of the week meant that volunteers at this months Cheshire Locks work party were able to get on with jobs that had been deferred over the wet months. Lock 63 was the venue for this work party and a group of volunteers made the most of the dry, if somewhat breezy, conditions to finish the painting at this lock on the Trent & Mersey canal at Malkins Bank, Sandbach. For those that know the area, this is a set of double locks with a large amount of metal railings and so it has taken some time to prepare, and paint both the lock gates and all the metalwork. However, the finished work is a fine testament to the work of the various volunteers that have continued throughout the winter months to finish both the vegetation clearance and painting.
The volunteers then moved on in the afternoon to Lock 64, again a double set and given the favourable conditions were able to complete the paining of the gates and wooden mooring posts. The good weather meant there were a large number of people walking along the towpath and many stopped to chat and comment on the improved appearance of the locks. (Photos: Bob Luscombe)
| | |
| --- | --- |
| | |
| Lock 63 Painting Balance Beams | Lock 64 Carefully cutting Edges |
| | |
| Lock 64 Work continues after Lunch | Lock 64 More Bricks |
Tuesday 15th April 2014 – A lovely day, so lots of painting got done. Lock 64 had most of the metalwork painted, lock 63 the remaining wood, lock 62 had the wood started, and the towpath bridge over the side-arm was tidied and painted too!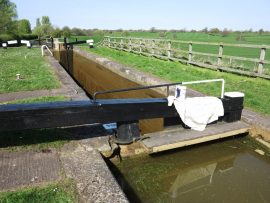 Lock 64 handrail being repainted white
Saturday 17th May 2014 – Cancelled because of clash with our AGM and lack of other volunteers.
Tuesday 17th June 2014 – Another lovely day, so we attacked the railings at Lock 62 (and there are lots of them!) as well as finishing the wood.
| | |
| --- | --- |
| | |
| Lock 62 Railings round Cascaded Lock | Progress much later |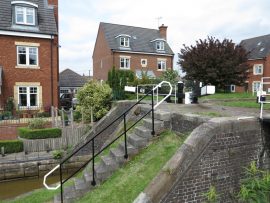 Lock 62 Step Railings and Gates after painting
Saturday 19th July 2014 – Work Party had to be cancelled as nobody was available to organise it.
Tuesday 19th August 2014 – A rather frustrating day. CRT only delivered some of the tools needed; it rained all morning; and we were told NOT to do any work on the locks themselves as there was a big queue waiting for a pound to refill. We did manage to complete the repainting of the railings around the cascaded lock 62, and do some rubbing down of the remaining lock metalwork.
| | |
| --- | --- |
| | |
| Lock 62 -63 Pound drained | Lock 62 and drained Pound |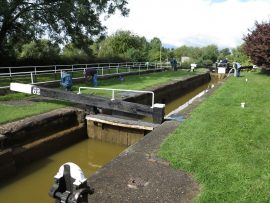 Lock 62 Railings round the cascaded lock being repainted
Saturday 20th September 2014 – The Work Party had to be cancelled because many of the volunteers were already very busy this month with extra working parties on other sites to complete specific projects. We do apologise, and hopefully this won't happen again.
Tuesday 21st October 2014 – Ex-hurricane Gonzalo swept over Cheshire today with high winds and frequent rain showers! Eight volunteers turned up anyway (including a new work-party leader), but the work party had to be cancelled "on site" due to rain and ongoing forecast preventing any possibility of work.
Saturday 15th November 2014 – The final Cheshire Locks work party of 2014 was at Lock 61 Malkins Bank to continue work started in previous months on this set of locks. Although damp weather meant that painting of the wooden lock gates wasn't possible, there were a large amount of metal railings in fairly poor state. After some intensive rubbing down preparation, fresh paint was added and the end results really transformed the lock area to a set of locks that hopefully everyone using the canal and towpath will now admire and enjoy. In addition, long covered and somewhat slippery cobble setts were cleared of vegetation and restored to something like their former glory. (Photos: Dave Clegg)
| | |
| --- | --- |
| | |
| Lock 61 Bottom Gate Quadrant before | Lock 61 Bottom Gate Quadrant after |
| | |
| Lock 61 Towpath Ramp before | Lock 61 Towpath Ramp after |
Click on a link below to go directly to that month (or just scroll back up)
January February March April May June July August September October November