(Note that clicking on a small picture will show that picture larger)
(All photos © John & Sandra Lawson, unless otherwise shown)
Click on a link below to go directly to that month (or just scroll down)
January February March April May June July August September October November
Thursday 18th January 2019 – Despite a cold frosty start we managed to complete both Pierpoint Locks. On Lock 55 we finished off painting the metal paddle gear; the top gate hand-rail, walkway front plate and gate cap; the lock bridge rails; and the lock ladder. A large encroaching hawthorn hedge alongside the lock was cut back Both bottom-gate brick quadrants were fully exposed and cleared of grass turf and weeds. On Lock 56 the balance beam on bottom gate was numbered and the strapping posts painted.
Lock 55 Before




(tall hedge, unpainted ladder)

Lock 55 After




(hedge cut back, ladder painted)

Hedging in progress

Ladder painted

Lock Quadrant exposed

Lock 56 finished
Thursday 21st February 2019 – A lovely Spring-like day helped us make as good start on Halls Locks (lock 49) at Church Lawton. Most of the white metalwork was rubbed down and painted, with some of the black also done. Plenty left for next month though.
| | |
| --- | --- |
| | |
| Lock 49 top with White paint done | Lock 49 bottom with Railings done |
Thursday 21st March 2019 – We made good progress and almost finished Lock 49, with just a few finishing touches needed. We also started Lock 50 painting the ladder hoops as well as several bollards.
| | |
| --- | --- |
| | |
| Scraping Paintwork at Lock 49 | Lock Ladder at Lock 50 |
Thursday 18th April 2019 – We had a good day on the work party. Quite a few of our regulars were on holiday or looking after grand-children etc (and one was seeing his horse win at Ripon races !). So there were just four of us along with Ashleigh from CRT. We continued preparation and painting on the towpath side chamber of Lock 50. Dave Sproson and John Lawson had spent an extra day the previous week completing the remaining painting on Lock 49.
Thursday 16th May 2019 – We made good progress in glorious weather.​
| | |
| --- | --- |
| | |
| Applying the finishing touches to Lock 49 | Glorious Weather |
| | |
| Lock 50 with freshly-painted numbers | Hedge we planted at Red Bull in April 2016 |
Thursday 20th June 2019 – A successful work party in spite of some interruptions due to rain. Seven volunteers were joined by CRT Volunteer Leader Ashleigh Carden on her final work party with our group before departing for pastures new. All work was completed on Lock 50, metal paddle gear and lock bridge edgings finished. Dave Sproson and John Lawson had visited to paint the numbers on the balance beams since our last work party. The team then moved down to the single chamber Lock 51 to scrape, wire brush and sand the steel top gate and rail, then the paddle gear and bridge rails. A coat of white paint was then applied to include the metal strapping posts and balance beam end and top-rail. The day ended with a "Thank You" and Bon Voyage presentation to Ashleigh from the volunteers.​
| | |
| --- | --- |
| | |
| Lock 51 bridge rails completed | Lock 51 Top gate with White re-painted |
Thursday 18th July 2019 – Excellent progress made to complete all works on Lock 50, and Lock 51 almost completed. Some preparation work on Lock 52, the final lock on the Church Lawton flight. We had eleven volunteers on the day including a group of 5 enthusiastic colleagues from Sapphire Global Systems fulfilling a community help day. We were fortunate to have dry, warm weather.
Thursday 15th August 2019 – The work party enjoyed another fine day. Five volunteers completed the finishing touches to the single Lock 51 (and the balance beam numbers were added by Dave Sproson and John Lawson the following week). The team then moved down to the twin lock No. 52 to continue preparation work on the bottom gates and rails, paddle gear and strapping posts to enable a coat of paint to be applied in the afternoon. Some vegetation cut back on the offside and clearance on the quadrants also.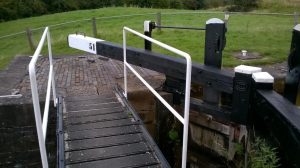 Lock 51 completed
| | |
| --- | --- |
| | |
| Lock 52 working on bridge rails | Lock 52 preparation work |
Thursday 19th September 2019 – Nine volunteers took full advantage of the glorious weather to complete work on Lock 52 and surrounding area. Final preparation then painting of the balance beams and accessible areas of both sets of bottom gates and paddle gear. The top gate and rail on the off side was prepared and painted. Eleven mooring posts beyond the bottom lock were scraped, wire brushed, sanded and painted and the wooden strapping posts alongside the lock chambers were rubbed down and painted.
The "Lawton Locks" sign was scraped, wire brushed, sanded then dismantled, painted and re-assembled. Finally, the vegetation on the off side was cut back to improve access for boaters.
| | |
| --- | --- |
| | |
| Home-made Brush Handle extender | Lock 52 Top Gate being painted |
| | |
| Newly painted mooring Bollard | Lawton Locks sign competed |
Thursday 17th October 2019 – We started work on Lock 66 Wheelock Bottom Lock. Eight volunteers spent another dry day preparing and painting lock ladders, strapping posts, top gate rails, paddle gear and balance beams along with some vegetation management alongside the lock and beyond to Lock 65.
| | |
| --- | --- |
| | |
| Lock 66 Bottom Gates | Lock 66 Top Gates |
Thursday 20th November 2019 – A dry day enabled 8 volunteers to progress the painting of paddle gear, balance beams and posts at lock 66 in spite of low temperatures . We also started work on lock 65. The canal was closed to traffic so an uninterrupted day.
| | |
| --- | --- |
| | |
| Our new Sign by Lock 65 top gate | Some of the Team |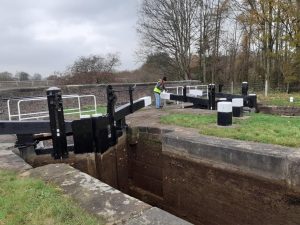 Lock 66 Bottom gates painted
Click on a link below to go directly to that month (or just scroll back up)
January February March April May June July August September October November