2021 Working Parties
(Note that clicking on a small picture will show that picture larger)
(All photos © John & Sandra Lawson, unless otherwise shown)
Click on a link below to go directly to that month (or just scroll down)
January February March April May June July August September October November
Thursday 21st January – Cancelled by CRT because of the Covid-19 Lockdown.
Thursday 18th February – Cancelled by CRT because of the Covid-19 Lockdown.
Thursday 18th March – Cancelled by CRT because of the Covid-19 Lockdown.
Thursday 15th April – Finally we were able to resume working parties. We started work on the Red Bull flight at lock 44. The sun shone and we all enjoyed the day. All 6 gates had the white paintwork renewed and 5 of them were also painted black. The top paddle gear was also cleaned and painted, as well as all 3 lock ladders.
| | | |
| --- | --- | --- |
| | | |
| Bottom Gate before | Work in Progress | All 4 done |
Sadly, we heard from John Lawson that we had lost one of our most stalwart Cheshire Locks Work Party volunteers: Paul Taylor of Mow Cop. He passed away in hospital on 31st January from Covid Pneumonia at the age of 66, having previously been diagnosed with a brain tumour. Paul was an enthusiastic member of our group and as a much valued colleague and friend will be greatly missed.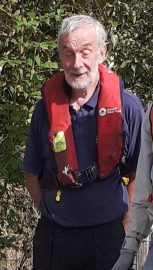 Thursday 20th May – Wet weather in the morning meant that we concentrated on metalwork as the wood was far too wet to paint. After much hard work (and some new carbide scrapers) we were able to paint over half of the bridge railings as well as the top gate handrails.
| | |
| --- | --- |
| | |
| Painting Bridge Railings | Painting Top Gate |
Thursday 17th June – The weather stayed (almost) dry, so the 7 of us made good progress on Lock 44, and started work on Lock 45.
| | |
| --- | --- |
| | |
| Bridge Railings almost done | Bridge Railings done |
Thursday 15th July – The weather was glorious, so we made good progress on Lock 44 (which is now nearly finished). All the white wood on Lock 45 is now painted, but progress was slowed by the need to remove all traces of the old paint (as the wrong paint had been used previously, so it was hanging off in sheets).
| | |
| --- | --- |
| | |
| Lock 44 Bottom Gates painted | Lock 44 Bridge & Bottom Gates |
| | |
| Lock 45 Ladder painted | Lock 45 White Wood painted |
Thursday 19th August – Rain interrupted our efforts this month although we were able to complete most of the remaining jobs on Lock 44 under the shelter of the tree canopy.
Thursday 16th September – A dry, pleasant day but only four volunteers (several members of our regular group had other commitments on the day). However, excellent progress was made and we were finally able to complete all the remaining painting tasks on Lock 44 ( bumper plates on both top gates, white metal edging strips on the front edges of the top gates, black paddle gear on the towpath side lock and a further coat of Hammerite for the ground paddle gear).
That done, we moved down to Lock 45. Here the towpath side chamber remained closed off , enabling us to paint the already prepared paddle gear and second coat the top gate without interruption. The lock numbers were painted onto the beam ends and finally, some scraping and wire brushing on the lock bridge railings.
The canal was extremely busy throughout the day and thanks are due to all the boaters who came through both locks for their patience.
| | |
| --- | --- |
| | |
| Lock 44 completed | Lock 45 top paddle gear |
| | |
| Lock 45 nearside bottom gate | Lock 45 offside bottom gate |
Thursday 21st October – On the Tuesday very inclement conditions were forecast for the scheduled work party. Luckily the Met. Office did a U- turn the next day to forecast clear, sunny conditions and so it proved. Four volunteers continued working on Lock 45, making considerable progress painting the metalwork – paddle gear, rails, beam end collars, gate fittings. Overnight rain had left the wooden beams too damp to paint so hopefully we will be fortunate in November and complete the job.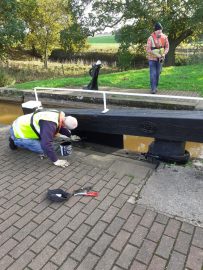 Thursday 18th November – The day dawned cloudy but dry, preceded by a dry night and with temperatures above the required minimum for our Sadolin paint. Could not have hoped for a better day, this was mid-November after all.
An excellent turn out of seven volunteers set to work painting the balance beams on the top and tail gates on both lock 45 chambers, complete the strapping posts and had time to finish preparing and painting the remaining metalwork on the rails, bridge edges, paddle gear, ladders and gate fittings. A rewarding day and a job well done. Two volunteers even made a start on the metalwork at Lock 46, with one lock ladder completed.
| | |
| --- | --- |
| | |
| Lock 45 Bridge (towpath-side) | Lock 45 Bridge (off-side) |
| | |
| Lock 46 Ladder painted | Lock 46 Sitting after painting Ladder |
Click on a link below to go directly to that month (or just scroll back up)
January February March April May June July August September October November