2023 Working Parties
(Note that clicking on a small picture will show that picture larger)
(All photos © John & Sandra Lawson, unless otherwise shown)
Click on a link below to go directly to that month (or just scroll down)
January February March April May June July August September October November
Thursday 18th January – Our first work-party of 2023 had to be cancelled because of bad weather.
Thursday 16th February – Finally, a month when the weather let us do some work. Six of us returned to Lock 59 where we did lots of rubbing down, and some painting. Sadly, we couldn't paint the railings or the 3 ladders as CRT couldn't supply us with any white Hammerite! However we did manage to paint the black metalwork and even some of the black woodwork (before we ran out of that paint too!). We were very please to be visited by John Lawson (our usual leader, but currently unwell) and family.
Thursday 16th March – Work-party had to be cancelled because of bad weather.
Thursday 20th April – At last we finished the painting at lock 59! Actually there was still some black wood to paint as CRT failed to supply enough AGAIN.
| | |
| --- | --- |
| | |
| Lock 59 almost finished | Extra mini work-party to really finish |
Note: We eventually completed all the remaining work at 2 small extra mini-work-parties The first took place on 22nd May once CRT had finally provided us with some black Sadolin paint. On June 19th, yet another mini working party finally (really!) put the finishing touches to Lock 59 by completing the lock numbering and painting the mooring posts on the approaches to the lock.
Thursday 19th May – Only 5 volunteers but excellent weather. Preparation work commenced on the towpath side lock followed by application of paint to the top and bottom gate beams and bridge rails. Mooring posts top and bottom of the locks painted.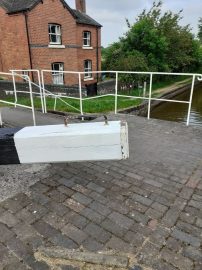 Thursday 15th June – We continued working on Lock 54 towpath side. Excellent progress was made despite the searing heat and absences due to holidays etc. The 4 volunteers were glad to meet up with Grace Kennedy (CRT Volunteer Supervisor) and her colleague Andrew who were able to add their assistance in between attending to their other duties. As well as painting the lock itself, we also applied paint to nearby towpath posts and gate. We expect to complete at our next work party and start work on the adjacent lock.
Thursday 20th July – We continued working on Lock 54 and finished all the railings, plus the metalwork of the towpath-side lock and all 6 bollards. Work was started on the offside chamber gates.
| | |
| --- | --- |
| | |
| Lock 54 Top Gate painted | Painting Tailbridge railings |
Thursday 17th August – We finished work on Lock 54 and started on Lock 53, where we painted most of the metalwork (ladders, bridge rails, paddle gear).
| | |
| --- | --- |
| | |
| Lock 54 finished | Tailbridge Railings finished |
Thursday 21st September – We made good progress today at Lock 53, despite heavy canal traffic and the weather closing in on us. We applied Hammerite to the lock and approaching mooring posts and a second coat of white Sadolin to the gates etc. That still leaves some white and black Sadolin work to be done as well as some black Hammerite. All prep work is completed. We'd expect to complete the lock on our next visit and, if we have the numbers, to make some good progress on the metal fence by the lock.
| | |
| --- | --- |
| | |
| Lock 53 partially painted | Lock Queue Bollard |
Also, earlier in the month (during the very settled and dry week commencing Monday 4th September) 3 members of our group helped the volunteer lock-keepers at Red Bull to prepare and paint Lock 43 (gates, rails, ground paddles, paddle gear and the railings between the lock and the Red Bull pub beer garden).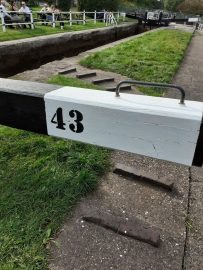 Thursday 19th October – Again we made good progress at Lock 53 despite depleted numbers. Thankfully the weather held and the 4 of us were able to carry out Hammerite painting on the lock and towpath side metal fence. All that remains to be done on the lock is black and white Sadolin painting on the woodwork. There is still a lot of fence work to be done. Weather and numbers permitting we might be able to complete on our next visit.
Thursday 16th November – Four of us continued the work on Lock 53. Thankfully, the weather turned out much better than anticipated and we were able to make great progress by prepping and applying Hammerite paint to the metal fence on the towpath side. The fence is pretty extensive, so still much to be done yet. We also finished some outstanding metalwork on the lock itself. Sadly, the wooden beam on the upper gate was still too damp to apply Sadolin. So, next time we congregate in January, we'll have plenty to do.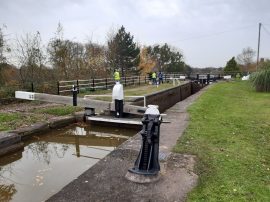 Lock 53 and part – painted fence photo: John Brighouse
See Diary for news of next planned working party
Click on a link below to go directly to that month (or just scroll back up)
January February March April May June July August September October November