Milepost 1½ / 93½ is at Derwent Mouth Lock
This is an extra milepost added by the Trent and Mersey Canal Society in 1985. The original mileposts started at Shardlow (1 ½ miles from the junction with the River Trent).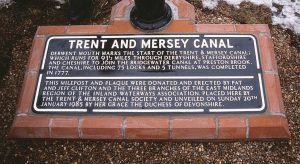 | | |
| --- | --- |
| | |
| Mould set-up for this Milepost | Mould Head with distances of 1½ and 93½ |
This milepost is an exception to the rule that the numbers on the mileposts always add up to 92. Unless of course you consider that this post is actually 1½ miles beyond Shardlow. This would make the Shardlow distance really -1½ and the maths works again (with -1½ and 93½ adding up, as usual, to 92).
This milepost and the unusually large plaque were donated and erected by Pat and Jeff Clinton, and the 3 branches of the East Midland Region of the IWA. It was unveiled on Sunday 20th January 1985 by Her Grace the Duchess of Devonshire.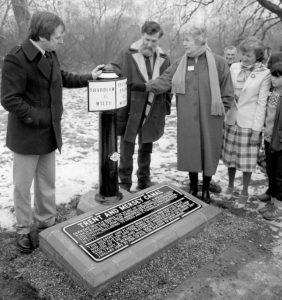 Here it is in 2021 (photos © Steph Johnson)
| | |
| --- | --- |
| | |
| Post and Plaque | Post seen across the lock |
Page last updated November 2021
(All photos © Waterway Images, unless otherwise shown)
Clicking on any picture will show that picture larger