Milepost 36 / 56 is near Colwich
This is a replacement milepost, so you may wonder why it is being extracted in this photo. The reason is that it was being repositioned further back on the towpath, as the waterway's contractors kept hitting it with their sit-on mower's cutting arms!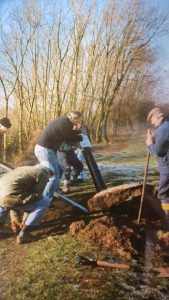 (Photo © Steven Bates)
The plaque reads :
THIS MILEPOST WAS DONATED
IN MEMORY OF
LILLIAN LACEBY
BY HER HUSBAND JIM
REPLACED BY THE
TRENT AND MERSEY CANAL SOCIETY
AND UNVEILED BY HER SISTER DORIS
ON SATURDAY 30TH OCTOBER 1982
By 2020 the post was so far back in the vegetation that it was difficult to reach.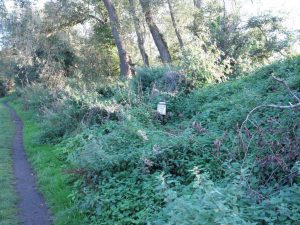 Hiding in the undergrowth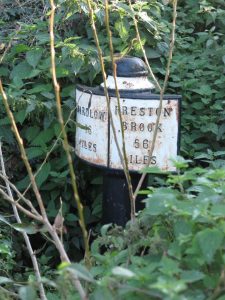 By wading into the undergrowth and wiping away dead leaves and a covering of mud it was just possible to photograph the plaque.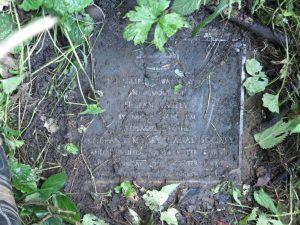 On our return trip the following week we decided to try and clear a route to the milepost
… More photographs soon.
Page last updated October 2020
(All photos © Roger Evans, unless otherwise shown)