Milepost 64 / 28 is by Church Locks
This is a replacement milepost. Here is a picture from many years ago when it had been defaced by arrows indicating the direction to Shardlow and Preston Brook (photo © Waterway Images). All our mileposts have Shardlow on the left, regardless of which side of the canal the towpath is located.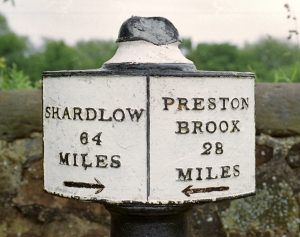 This milepost is barely visible (by the wall between the 2 pairs of locks) in this photograph of all 4 Church Locks in 2014. Only the towpath-side locks were usable then as the offside top lock had been declared unsafe around 40 years earlier, and the offside lower lock was closed many years later "as the turn was too difficult to/from the working upper lock". Sadly (in July 2020) this is still the situation (despite waterway recovery group having done some work to stabilise the upper lock in 2010), although we would dearly love to see the non-working locks repaired and put back into use.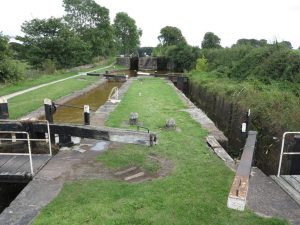 In 2014 we decided to repaint the post as it was looking very sorry for itself (even though the arrows had long been removed.
| | |
| --- | --- |
| | |
| Here it is before we started | Rubbed down and repainted all over with a very zinc-rich grey primer |
| | |
| Plates painted white (including the lettering) | Next it was the turn of the black bits |
Finally we tidied up the edges and removed the "wet paint" sign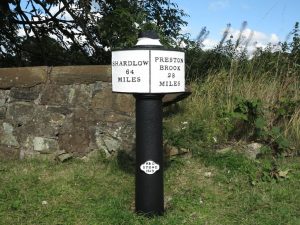 By 2022 (8 years later) it was still looking good (Photo © Steph Johnson)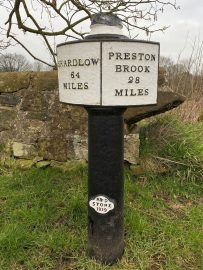 Page last updated July 2022
(All photos © Roger Evans, unless otherwise shown)
Clicking on any picture will show that picture larger