Milepost 77 / 15 is by Bridge 176 (near Croxton Flash)
This is a replacement milepost, sponsored by Eggbridge Marina, and unveiled by Aileen Smith on Sunday 6th March 1983 (Historic photos © Waterway Images).
| | |
| --- | --- |
| | |
| Unveiling of milepost by Aileen Smith | "Archive" photo mentioned below |
The details of the unveiling are taken from Page 9 of May 1983 "Grand Trunk" magazine (and confirmed in 2017 by Harry Arnold). Unfortunately we couldn't just read the plaque as it has been missing since at least 2006 (it was absent when Phil Myott photographed all the mileposts). The plinth where the plaque was originally located can be clearly seen below (in this 2020 photo) surrounded by a row of well-worn bricks.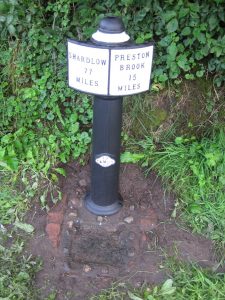 In 2017, as part of the celebration of the 40th Anniversary of the Mileposts Campaign (see Milepost Campaign page) the society decided to try and find the original wording in the hope that we could eventually commission a replacement plaque. We put out an appeal in "Grand Trunk" and that September Robin Green sent us details of the exact wording on the missing plaque (which he had noted down on 3rd November 1986 during his visits to all the replacement mileposts). In November 2017 Harry Arnold located a black & white "archive" photo of the unveiling of this milepost showing the plaque. By enlarging the photo it was just possible to confirm the plaque wording. This "archive" photo appears at the top of this page (but it has been compressed for web use, so the plaque isn't readable!).
The wording on the plaque was:
THIS MILEPOST WAS SPONSORED BY
MR AND MRS P SMITH
OF EGGBRIDGE MARINA LTD.
TO FURTHER THE HERITAGE OF
OUR INLAND WATERWAYS
REPLACED BY THE
TRENT AND MERSEY CANAL SOCIETY
SUNDAY 6TH MARCH 1983
PLAQUE BY BUTLER JONES BOGNOR REGIS
Also in 2017 Saltscape repainted this post (photos © Saltscape).
| | |
| --- | --- |
| | |
| Before | After |
and here it is in 2021 (photo © Julie Parsonage)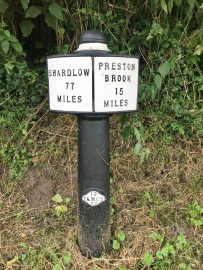 Page last updated August 2021
(All photos © Margaret English, unless otherwise shown)
Clicking on any picture will show that picture larger