Milepost 84 / 8 is near Marbury
This is a replacement milepost, unveiled in 1980. However, 40 years later in 2020 we discovered that the original milepost had been found in storage at the National Waterways Museum at Ellesmere Port. [Unfortunately their records don't say where (or when) the milepost was found, so we don't know why we had a replacement milepost cast instead of just replanting the original milepost. Steve Guest thinks he remembers hearing that the original milepost was found on the old line of the canal (which had been bypassed in the 1950's because of salt subsidence) after the new one had been planted. Can anybody confirm or deny this?]
The top of the original post is in good condition (apart from a deep gouge). The maker's plate looks like it was badly worn, as it has been repainted to read "RUD S'COND 1819" instead of the correct "R&D STONE 1819". (photos © Norman Stainthorp).
| | |
| --- | --- |
| | |
| Head | Makers Plate (wrongly repainted) |
Here is the replacement post being unveiled. [This photo is from the TMCS Archive, and unfortunately the photographer is not known. Cana anybody help?]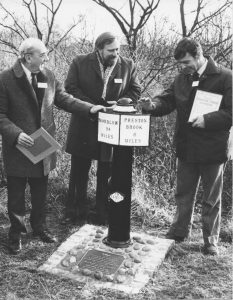 The plaque reads :-
THIS MILEPOST WAS SPONSORED BY
COUNCILLOR H. FLETCHER
& MARSTON PARISH COUNCIL
& OTHER VOLUNTARY CONTRIBUTIONS
REPLACED BY THE
TRENT & MERSEY CANAL SOCIETY
AND UNVEILED BY
COUNCILLOR H. FLETCHER
ON SUNDAY 16TH NOVEMBER 1980
PLAQUE BY BUTLER JONES BOGNOR REGIS
In 2017 Saltscape repainted the replacement post (photos © Saltscape).
| | |
| --- | --- |
| | |
| Before | After |
Page last updated March 2020 (tidied January 2021)
(All photos © TMCS, unless otherwise shown)
Clicking on any picture will show that picture larger