Milepost 92 / 0 is at the North End of the Tunnel
Unusually, this milepost isn't visible from the canal nowadays, as Preston Brook Tunnel was extended, making the junction with the Bridgewater canal now inside the tunnel. The milepost is beside the horse-path over the tunnel (nowadays a minor road) and it is on the roadside around 10 yards from the tunnel entrance.
Milepost in 1970 with hole in the top
(photo © Waterway Images)
Road crossing Tunnel
[I seem to recall that the tunnel extension happened when the Bridgewater Canal decided to build a tunnel-keepers house (now long demolished). They extended the tunnel (technically as a bridge across the Bridgewater Canal?) and built their house on the extension. The Keckwick Brook, and the horse-path also cross on this extension. Old photographs of the house always show the windows over the tunnel entrance as having been bricked up, which is assumed to have happened once the steam tugs started work. Can anybody confirm this information (or correct me)?
Update August 2020 – According to the March/April 2005 edition of our magazine Grand Trunk, a second possible reason for the extension was so that the Keckwick Brook could be diverted across the canal, instead of it being allowed to enter the canal by the tunnel mouth. Both Colin Edmonsdon and Tony Lewery (who lived in a canal-side cottage) supported this second reason. Apparently a relatively recent (in 2005) experiment in diverting the stream into the canal had to be abandoned when it blocked the canal with silt after just 2 days].
Here is our most northerly milepost disappearing slowly into the road-side hedge in April 2015.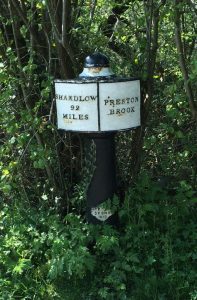 In 2017 Saltscape repainted this post.
| | |
| --- | --- |
| | |
| Before | After |
Page last updated August 2020 (tidied January 2021)
(All photos © Saltscape (Andy Hellyar-Brook), unless otherwise shown)
Clicking on any picture will show that picture larger