'In the Beginning' – T&M 50 Years Ago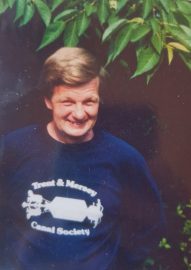 By 1971 I was an employee at Willow Wren Kearnes Hire Boat Company at Middlewich.
In 1973, Telford's Harecastle Tunnel closed to navigation due to a roof collapse. This caused enormous disruption to the itinerary of the hire boat companies. However, there was no plan to reopen the tunnel.
Heather Chaplin, purveyor of coal from her narrow boat was well known on the T & M. She was instrumental in introducing me to Bob Shopland, editor of Waterways World who supplied Willow Wren with monthly magazines for sale in their shop. We discussed how important the T&M was to the continuation of the growing leisure industry on the canal system at that time. An interview was arranged for me to talk on Radio Stoke to raise awareness of the historic importance of the T&M, not only for the growing narrowboat leisure industry, but also for the historic development of the 'Potteries' transport and trade of goods in those early days. Bob wrote a column for the magazine asking for interested parties to contact me with a view to forming an action group and canal society to get the tunnel reopened.
It wasn't long before I received a letter from Mike Mitchell, an enthusiast from Long Eaton and chairman of the Grantham Canal Society, who was obviously very much a 'committee man' with a wealth of experience in getting things done!
On New Year's Eve 1973 the doorbell rang and there stood our third recruit, Graham Hovey, director of Zan Ltd of Wheelock, a keen canal enthusiast with business acumen. We had much to discuss and Graham eventually left in the early hours of New Year's Day 1974!
Graham suggested that we call an inaugural meeting in a local pub. We booked the Red Bull, Church Lawton. It was arranged for 2nd February 1974. The capacity of the room was small, to accommodate about twenty people. Fifty enthusiasts squashed into this tiny room!
Malcolm Gray was at this meeting. He suggested that we organise a boat rally for 1974 to be held at both ends of the Harecastle Tunnel to draw attention to the uncertain future of the T&M canal. This bold plan ignited much enthusiasm and Malcolm was duly elected chairman of the Rally committee. We needed a President. Malcolm contrived an interview with a member of the Wedgwood family and our president was born. We soon had an army of enthusiasts.
We were now able to form a committee. We had no funds, so we held informal boat gatherings & BBQ's and sold raffle tickets; an embryo shop formed from nowhere and we begged and sold canal memorabilia. Many curious boaters stopped to see what we were about and pledged support. Builder Pat Osborne and his wife Millie on narrowboat 'Deinos' joined us at Wheelock and became very prominent workers and fundraisers for the society taking over the society shop and regularly attended working parties. No one could resist Millie when she flourished her book of raffle tickets! After their death, the IWA and the T&M society raised a memorial plaque to them for their contributions to the T&M.
After the success of the Harecastle rally and the subsequent reopening of the tunnel I felt that I had achieved my objective in forming the society and decided to retire, Roger Lee had other ideas and made me honorary vice president. The problem was that the T&M was 93 miles long. Too long for a central committee to handle. We formed Northern and Southern committees, Malcolm Gray as Northern chairman and Roger Lee in the south.
It wasn't long before Roger coerced a reluctant Harry Arnold to join the society as publicity and fundraising expert. He took over our very amateur magazine 'Towpath', updated it and renamed it 'Grand Trunk' to become the popular magazine it is today.
I had achieved my goal. Our President was an influential Wedgwood. We had two flourishing committees, a growing number of enthusiastic members with many skills and an increasing bank balance.
The T&M was saved. Our society was successful and in good hands thanks to the determination and hard work of many friends here named and un-named. Alas too many to count.
May the Society long continue.
Steve Guest
(Vice President T&MCS)