2017 Working Parties
(Note that clicking on a small picture will show that picture larger)
(All photos © John Brighouse, unless otherwise shown)
Click on a link below to go directly to that month (or just scroll down)
January February March April May June July August September October November
Thursday 19th January 2017 – Despite the poor weather seven volunteers arrived eager to do what they could. They picked 17 bags of litter from the towpath and surrounding areas between Red Bull and Harecastle Tunnel.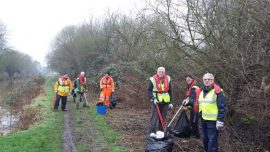 Thursday 16th February 2017 – We started the day by cutting back some tree branches overhanging the Macclesfield spur. The woodwork on the lock was damp all day, so work concentrated on painting black metal work on lock 42. Good progress was made but with some disruption due to very isolated showers which unfortunately seemed to occur just very local to Kidsgrove. We also cleared a load of plastic bottles from the canal around the lock area.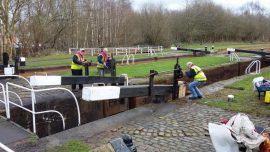 Thursday 16th March 2017 – Painting of lock 42 has finally been completed! After a number of months where progress has been limited by bad weather, a good team with a good day finished the painting at lock 42. In addition painting of masonry around lock 43 was done as a safety measure to mark edges; and the steps to the Macclesfield Canal at the bridge between the locks were cleared. The previous day 2 members of the group undertook a litter pick from Rode Heath to Red Bull to generally improve the area.
Special thanks go to the Canal Tavern adjacent to lock 41 for providing free tea & coffee to the work party and opening up their facilities for us. If you are passing do call in to demonstrate our appreciation & enjoy some friendly refreshment. Thanks also to Kidsgrove Working Men's Club for providing parking facilities.
| | |
| --- | --- |
| | |
| Team at Work | The finished job |
| | | |
| --- | --- | --- |
| | | |
| Before | During (with David) | After |
Clearing the steps to the Macclesfield Canal
(Photos of before & after: David Clegg)
Thursday 20th April 2017 – Work started this month at Lock 41 (Kidsgrove Top Lock) and tremendous progress was made. The balance beams were painted and most of the white metal work around the lock was prepared and painted. By the end of the day massive improvement was clear for everyone to see. Lock 42 was completed last month but a small team returned there to add the lock numbers as the finishing touch.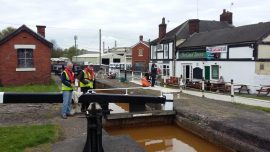 Progress at Lock 41
Tuesday 9th May 2017 – An EXTRA work party (organised at the request of the volunteers) to progress the work on Lock 41.
Thursday 28th May 2017 – Work continued at Lock 41, particularly on painting the metal work on and around the lock. Weeds were also cleared to improve the general appearance of the area.
Also, this month, John Lawson and Dave Sproston finished repainting all eight mileposts between Harecastle Tunnel and Wheelock. The first (at Church Lock) was done in August 2014 by Roger Evans and Margaret English. (Photo: Sandra Lawson)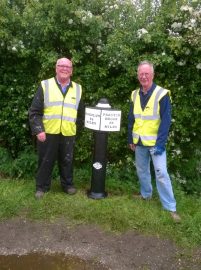 John Lawson & Dave Sproston with the repainted milepost
Thursday 15th June 2017 – We completed painting all the railings (and even a lamp-post) at Lock 41. Two coats of gloss were used on the woodwork of the buildings, but another coat will be needed on our (hopefully, weather permitting) final visit there in July. (Photos: David Clegg)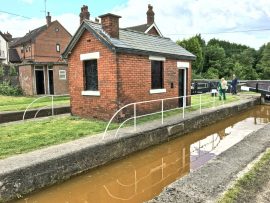 Lock Buildings after painting [compare with April]
| | |
| --- | --- |
| | |
| Lamp Post (before rubbing down and painting) | Lamp Post after painting |
Thursday 20th July 2017 – We tidied up the other small jobs near Lock 41. First we cut-back the vegetation hiding the fingerpost at the junction with the Macclesfield Canal. (Photos: David Clegg)
| | |
| --- | --- |
| | |
| Fingerpost hiding behind trees | Fingerpost clearly visible afterwards |
Then we rubbed down and painted the towpath bridge (across an old over-flow weir). (Photos: Margaret English)
| | |
| --- | --- |
| | |
| Railing and vegetation before we started | Bridge after painting |
Thursday 17th August 2017 – We started work on Church Locks (locks 47 & 48). Most of the metalwork around both locks was prepared and painted.
Thursday 21st September 2017 – Work continued on Church Locks (locks 47 & 48) despite the bad weather.
Thursday 19th October 2017 – Painting of metalwork completed on Church Locks (locks 47 & 48), but heavy rain prevented completion of woodwork painting.
23rd-27th October 2017 – We formed part of a team which cleared offside vegetation from Hardings Wood to just past Wheelock.
Thursday 16th November 2017 – Work-party postponed for a week as the weather wasn't suitable for painting the woodwork (which is the only work left on Church Locks).
Thursday 23rd November 2017 – The painting of these locks was finally completed today. The work party was held on a very cold day and there was some disruption by a heavy rain shower, but this month finished the work on these locks. The team members deserve full marks for their perseverance!
Click on a link below to go directly to that month (or just scroll back up)
January February March April May June July August September October November