2016 Working Parties
(Note that clicking on a small picture will show that picture larger)
(All photos © John Brighouse, unless otherwise shown)
Click on a link below to go directly to that month (or just scroll down)
January February March April May June July August September October November
Thursday 21st January 2016 – Eight willing volunteers turned up on this cold morning. It was too cold for the normal painting activity so we concentrated on filling pot holes in the Red Bull access and parking area; and started work to build a new memorial garden adjacent to the car park and canal. With the assistance of 2 CRT staff the team moved, levelled and compacted 5 tonnes of stone and cleared vegetation from the overgrown garden area. At the end of the day with 44 hours of volunteers' effort, a massive improvement really could be seen.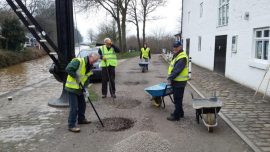 Filling Holes
| | |
| --- | --- |
| | |
| Garden area before we started | Photo-call at end of Day |
Thursday 18th February 2016 – Seven willing volunteers joined the February work party and contributed 40 hours of work. The day started cold but bright so the team spent the morning continuing to develop the memorial garden at Red Bull; preparing the ground for seeding later in the year. By afternoon the sun had dried some of the metalwork at Lock 43 so part of the team resumed painting the railings there. It was the first time since October that the weather had allowed painting! Over the last month CRT have provided a storage cabin at Red Bull for volunteers' tools and equipment which will be a real help.
| | |
| --- | --- |
| | |
| Red Bull Garden starting to take Shape | Painting continues along a very long line of railings at Lock 43 |
Thursday 17th March 2016 – Another dry (but cold) day meant that we made good progress on both the garden and Lock 43. At the garden, a short flight of steps up from the car park to the garden was created and the garden edged with posts and old stop-planks. At the lock more towpath railings were painted, as well as the black metalwork on the lock and the curved lock-ladder-top rails.
Thursday 20th April 2016 – A beautiful warm day, but a shortage of numbers meant that CRT wouldn't let us work on Lock 43, as they wanted work on the memorial garden to take priority, and there were also some hedging "whips" which urgently needed planting. We agreed reluctantly but, after a meeting with CRT management, they know that lock painting MUST take precedence over the memorial garden on future working parties (weather permitting). Even so 7 volunteers contributed a total of 39 hours work. One team was taught how to build steps to the CRT standard in the garden area including some useful joinery tips for future reference.
| | |
| --- | --- |
| | |
| Steps – Learning | Steps – Finished |
The other team planted whips along a 100m length of canal by the locks filling in gaps in the hedgerow. This was a specific project requested by the CRT ecologist; a job that needs to be done in Spring just before the growing season.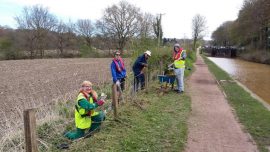 Completing the Hedge Row between locks 44 & 45
Thursday 19th May 2016 – A warm day saw a very good turnout of volunteers. 11 people joined the work party and contributed 66 hours of work. Fortunately the rain held off until the very end of the day so we were able to concentrate on painting around lock 43 (outside Red Bull Pub). There are extensive metal railings around lock 43, so most of the team concentrated on preparing and painting these. The woodwork of the lock gates themselves was also painted, as well as some work being done on the garden by Red Bull offices. Good progress was made and hopefully (given the weather) Lock 43 can be completed in June, and we can move to Lock 42.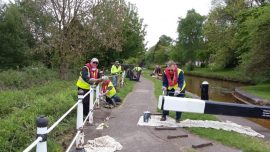 Thursday 16th June 2016 – With the cruising season on us and a big Euro game in the afternoon (England v Wales), this month's work party was a little smaller & shorter than normal. We still had 5 volunteers though and we continued with painting railings around lock 43 and preparing the planters in the new garden area. Good progress was made but we will be continuing our work in the same area next month. The railings do seem to continue a long way!
Thursday 21st July 2016 – The 7 volunteers finished painting lock 43, and ALMOST finished the railings (with just a single panel left to paint white, as well as some black bits). This means that next month most of us can move on to lock 42, with just 2 people needed to finish off the lock 43 railings. (Photos: Duncan Learmond)
| | |
| --- | --- |
| | |
| Lunch-time (and painted railings) | Railings work underway again |
Thursday 18th August 2016 – We had a very productive day – at last Lock 43 and all associated railings etc. are completed. We also started vegetation clearance at Lock 42, in preparation for starting painting there next month. (Photos: Dave Clegg)
| | |
| --- | --- |
| | |
| Railings at Lock 42 before | Railings at Lock 42 after clearance |
| | |
| Quadrant at Lock 42 before | Quadrant at Lock 42 after clearance |
Thursday 15th September 2016 – A very late start because the CRT organiser standing in for a holidaying John Brighouse was over an hour late arriving. Apparently he had been told (by CRT) that we were working at Middlewich. We rubbed down, and painted around 50% of the railing at Lock 42, 1 of the 4 ladders, and made a start on the gates by doing the white wood.
Thursday 20th October 2016 – Six volunteers had a very productive day completing most of the metalwork, and painting some of the woodwork on and around lock 42.
| | |
| --- | --- |
| | |
| Walking past Lock 43 on our way to site | Lock 42 at end of day |
At the beginning of this year IWA volunteers worked on a memorial garden alongside the Red Bull Offices. The IWA team cleared extensive overgrowth and brambles, removed rocks and levelled the site. Then over the course of the summer CRT arranged for another team of local youngsters to complete the garden. It is now almost complete and it is good to see the impressive improvements made by the joint efforts of various volunteer groups during the course of the year.
| | |
| --- | --- |
| | |
| Site of Garden before we cleared it | Garden area now |
Thursday 17th November 2016 – Six willing volunteers set off from home in bright sunshine intending to spend a day painting at lock 42. Just as we set up the rain started and it became progressively heavier, until by noon it was torrential. Not to be outdone, we devoted the morning to litter-picking on the Macclesfield Canal loop around lock 42 and filled 6 large bags full of rubbish. The section of canal looks much better for the effort but, by lunchtime, we were soaked through and had to call it a day. As everyone left the rain stopped and the sun reappeared. So 6 very wet volunteers returned home in bright sunshine. As they say, timing is everything!
Click on a link below to go directly to that month (or just scroll back up)
January February March April May June July August September October November