Milepost 15/77 is at Stretton near Bridge 31
This is an original milepost.
Here is a 2021 picture (© Steph Johnson) showing that somebody has recently repainted the top half wrongly. The mileage to Shardlow should read 15 (not 18). Presumably whoever repainted it had to try to work out what the figures were and didn't know that all our posts add up to 92.
[Who will volunteer to correct it to read 15? – Ed]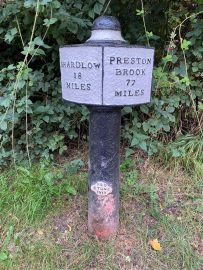 Page last updated September 2021
(All photos © Steph Johnson, unless otherwise shown)
Clicking on any picture will show that picture larger