Milepost 47 / 45 is below Star Lock, Stone
This milepost is pictured in 2006 below.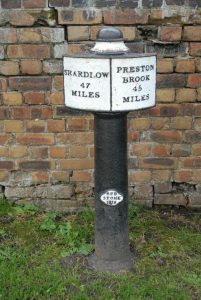 By 2008 somebody had altered the makers plate (removing the maker's name and the year) during repainting. By 2020 (photo © Roger Evans) the post (and the brickwork) looked a lot older but the makers plate was still un-corrected.
Page last updated July 2020
(All photos © Waterway Images, unless otherwise shown)