Milepost 48 / 44 is above Lime Kiln Lock, Stone
This is a replacement milepost unveiled by the Earl of Shrewsbury in 1982.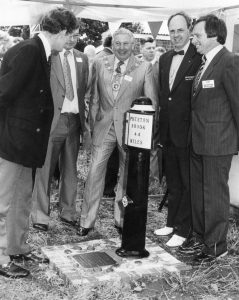 As reported in the July/August 1982 edition of "Grand Trunk", the people standing around the milepost are (left-right) The Earl of Shrewsbury and Waterford, Laurence Sanders (our President at that time), The Mayor of Stafford, Captain Bill McKelvey (Director of the Canal Society of New Jersey) and Harry Arnold (our then Chairman). (Photo © Chris Edge)
The colour photograph below seems to feature the same people, but the clothes have changed, so presumably it was taken later .
[Was it a few days later or several years – Anybody know?]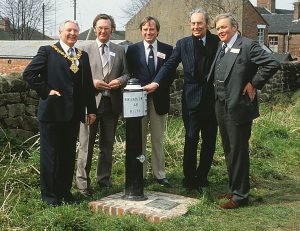 (Historic photos above © Waterway Images)
By 2017 it was sporting a rather strange colour scheme with the lettering white (instead of being picked-out in black), and the bottom section of the post grey. By July 2020 a flowerbed had appeared, but the strange colour scheme was unchanged.
The plaque indicates that the sponsorship (unusually) came from abroad. The Canal Society of New Jersey is a very long-standing Life-member of our society.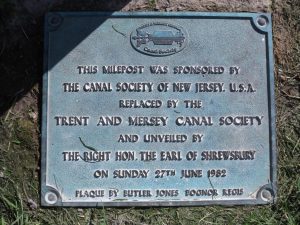 Finally, in September 2020 the milepost was resplendent (apart from a spattering of grass cuttings) with the lettering picked out in black and the lower part of the post returned to black.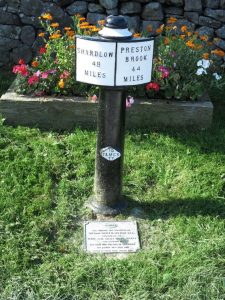 Page last updated November 2020
(All photos © Roger Evans, unless otherwise shown)