Milepost 57 / 35 is near Etruria (Bridges 118-119)
The original post was too badly damaged to be re-installed. Below is a picture which was captioned "Old Shelton post fished out of the cut at Stone 17th April 1983 (Photo © Waterway Images)", which is therefore probably this post.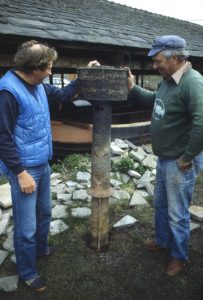 This is the replacement milepost, shown here being unveiled
(Photo © Josiah Wedgwood & Sons Ltd / Waterway Images)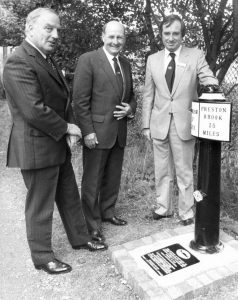 According to the September 1985 issue of "Grand Trunk" those pictured are Sir Arthur Bryan (Chairman of Wedgwood & Sons), Sir Leslie Young (Chairman of BWB) and Harry Arnold (our Chairman).
Here is the milepost in 2020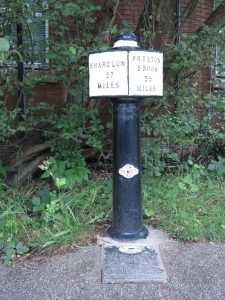 The Plaque is now badly worn as the towpath here has become a cycle path. The plinth (seen in the unveiling photograph) has been removed and the plaque is now set within the cycle path.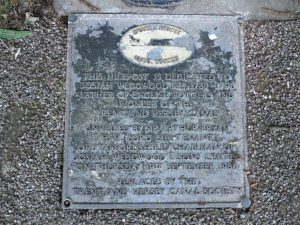 The plaque reads :
THIS MILEPOST IS DEDICATED TO
JOSIAH WEDGEWOOD FRS, 1730-1795
FATHER OF ENGLISH POTTERS AND
PIONEER OF THE
TRENT AND MERSEY CANAL
UNVEILED BY SIR ARTHUR BRYAN
H.M. LORD LIEUTENANT
OF STAFFORDSHIRE, CHAIRMAN OF
JOSIAH WEDGWOOD & SONS LIMITED
ON THURSDAY 19TH SEPTEMBER 1985
REPLACED BY THE
TRENT AND MERSEY CANAL SOCIETY
Page last updated November 2020
(All photos © Roger Evans, unless otherwise shown)