2015 Working Parties
(Note that clicking on a small picture will show that picture larger)
(All photos © Andy Hellyar-Brook, unless otherwise shown)
Click on a link below to go directly to that month (or just scroll down)
January February March April May June July August September October November
Thursday 15th January 2015 – The first working party of 2015 was our first regular Thursday work party and the first with our new organiser. Six intrepid volunteers, with hands-on support from CRT, turned out despite the weather forecast. Winter work parties are always a bit of a lottery with regard to conditions, however the weather turned out to be better than forecast, but it was still cold and windy with an occasional pulse of rain. We had planned to finish the painting of Lock 61 (which we were unable to complete at our last work party), however the conditions were not at all suitable for painting so "Plan B" came into play. We all set-to clearing cobble setts, lock landings and edging along the stone-work around Lock 62 and below Lock 61. As the hedgerow had shed it's leaves it exposed quite a bit of litter which we duly cleared away. At the foot of Lock 61 we uncovered an unusual cobbled area with large, gently converging stone paving with no clear function. The stone is in excellent condition with very little apparent wear.
| | |
| --- | --- |
| | |
| Lock 61 Towpath Cobbles – Before | Lock 61 Towpath Cobbles – After |
Thursday 19th February 2015 – For our second Cheshire Locks work party of 2015 we have moved our focus of activities to Lock 44 Red Bull Flight from Malkins Bank Locks. We have essentially completed our uplift work at Malkins Bank apart from some painting to catch back in the Spring when the weather is better. Despite the miserable February cold and persistent rain six volunteers came to help; our regular stalwart group and two new faces joining our team. This is especially encouraging for me as the new volunteer organizer for this activity. The focus of this month's work was to cut back overgrown vegetation and clean setts and copings. It was all a bit muddy but we felt that a good start was made on Lock 44, and we made a clear visual difference to the top and bottom of the two paired locks. We also had an opportunity to clear out rubbish from an interesting wall feature and to cut back brambles and trim the hedge a little.
| | |
| --- | --- |
| | |
| Lock 44 Quadrant before | Lock 44 Quadrant cut back |
| | |
| Lock 44 Quadrant complete | Lock 44 Wall Feature and Rubbish |
| | |
| Lock 44 Tidying Edges | The Team |
At the end of our day we were wet and cold but satisfied with having made a real difference to this very popular area. Indeed, we received praise and thanks from several dog-walkers and from the one intrepid boater moving that day. Although the weather is unsuitable for painting during the winter months there is always some useful work to do in uplifting the standard and we will be able to concentrate on painting when the weather is dry and warm.
Thursday 19th March 2015 – Our third Cheshire Locks work party of 2015 took place on a glorious early spring day, which was such a welcome contrast to the wet and cold of our February event. This month's work was more cutting back overgrown vegetation, cleaning setts and copings and preparing for painting. Seven volunteers, supported by Naomi from CRT, turned out for a good day's work at Lock 44 and 45 and we achieved a definite lift to the appearance of these two paired locks. Despite litter picking in February we still collected nine bags of garbage! Altogether a very satisfying day with good progress made enabling us to concentrate on painting as the weather warms up .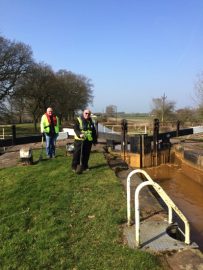 Lock 44 Tidying Vegetation on Centre Island
| | |
| --- | --- |
| | |
| Lock 44 Top Quadrant | Lock 45 Painting Top Paddle Gear |
Thursday 16th April 2015 – At last the rain stayed away and the sun came out long enough to allow us to paint! On a glorious spring day volunteers from our regular team, two hard working teenagers (working towards their Duke of Edinburgh Award) and Naomi from CRT put in a great day's work and we almost completed Lock 44 painting at Red Bull. The lock looks so much better than it has done in a long while. The canal was busy with boats and dog walkers and we were rewarded with positive comments and encouragement. (Photos: Roger Evans)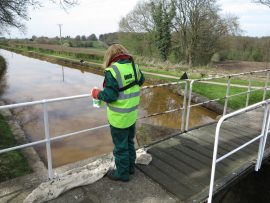 Railings being painted
| | |
| --- | --- |
| | |
| Lock44 Railings before | Lock 44 Railings after |
| | |
| Lock 44 Painting Gate | Lock 44 Painting Ladder |
Thursday 21st May 2015 – Spring has arrived at Red Bull! The sun shone down on our team of eight volunteers so we took advantage of a long, dry day and completed painting Lock 44 and half of Lock 45 on the Red Bull flight, along with all of the gardening tasks around and between the locks. It was a busy day for boaters and towpath users – all were most happy to praise our work and thank us for our efforts.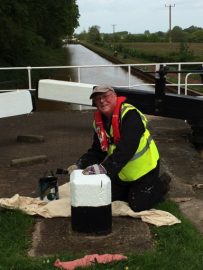 Bollard at Lock 44
| | |
| --- | --- |
| | |
| Lock 45 Ladder | Lock 45 Bottom Gates |
Thursday 18th June 2015 – This work party was very well supported by eleven volunteers. The sun eventually appeared in the afternoon, which was most welcome after a rather cool and breezy day for late June. While most of us finished the painting on Lock 45, some of the group moved down to start preparation work on Lock 46. This looks like a big job and we will need to get stuck in next month to make it ready for painting. There's a lot of work to do tidying the very overgrown setts and lock sides.
As we are halfway through the year it feels like an opportune time to reflect on the work done by our volunteers so far this year: Our team of committed regulars – supplemented by some recent new faces – have contributed 288 hours of painting and gardening to date, working through foul weather and, at last, some sunny spells. For our next work party we shall continue working at Red Bull on Lock 46 and then we will organize an opportunity to move back to Harding's Wood Junction and complete the uplift of the Kidsgrove locks.
| | |
| --- | --- |
| | |
| Lock 45 – Painting Bottom Gates | Lock 45 – Adding the Number |
Thursday 16th July 2015 – This time we had nine volunteers putting in a productive day's work where we completed a couple of finishing touches to Lock 45 and made great strides towards completing Lock 46. It was a very busy day for boaters and we had to take a lot of pauses to pass the boats through and avoid wet paint issues. The weather was bright and sunny so, despite the interruptions, good progress was achieved with the paint drying quickly.
| | |
| --- | --- |
| | |
| Quadrant at Lock 45 | Bollard at Lock 46 |
Thursday 20th August 2015 – We continued the uplift of Lock 46 on the Red Bull Flight. Nine volunteers put in a very productive day's work and we made excellent progress towards completing Lock 46. It was understandably a very busy day for boaters and we had much praise and thanks for our volunteer effort. The weather was a little overcast and threatening rain however luck was with us and all but for a few spots we were spared. Lock 46 handrails and metal work were in a poor state requiring quite an effort to rub down and paint but it all looks really tidy now. We uncovered some very nice granite cobbles on the offside landing area and thoroughly cleaned weeds off the brick setts between the pairs of bottom gates.
| | |
| --- | --- |
| | |
| Clearing top Quadrant | Painting Railings |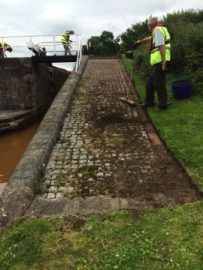 Towpath Ramp exposed
Thursday 17th September 2015 – We have now finished the uplift of Lock 46 on the Red Bull Flight. A good turn out of ten volunteers put the final touches to Lock 46 on a day where the weather kept threatening to interrupt us but thankfully the rain held off. It's been hard work to complete Lock 44 to 46 but well worth the effort.
| | |
| --- | --- |
| | |
| Adding number | Lock 46 Top Gates |
| | |
| Lock 46 Bottom Gates | Lock 46 Central Island |
Thursday 15th October 2015 – Nine willing volunteers joined the Work Party this month to start work on Lock 43. This continues the work done earlier this year on Locks 44 – 46 around Red Bull & we were pleased to note the support from boaters coming through who admired all the hard work done throughout the year on the Red Bull lock flight. The weather was once again kind and although everything was damp when we arrived it dried sufficiently to do some painting in the afternoon. Five of the team concentrated on the metalwork surrounding the lock which had not been painted for many years. Two worked on vegetation clearance and the remaining two worked on the lock gates themselves. The gates are not too old but some smartening up was well worthwhile to match the other locks in the flight.
| | |
| --- | --- |
| | |
| Site from road bridge (Eddie Kingswell) | From Towpath (John Brighouse) |
The work of the vegetation team is not always highlighted but their work in exposing the cobbled towpath adjacent to the lock really did transform the area. (Photos: David Clegg)
| | |
| --- | --- |
| | |
| Towpath Ramp before | Towpath Ramp after |
By the end of the day most of the metal that had been cleaned was painted and protected for a few more years to come. It will however require another day's work to complete the task and the team will be meeting again at Lock 43 on Thursday 19th November. We are always looking for new volunteers to help with the work. It is a fun and rewarding day and makes a real difference to our canals.
Thursday 19th November 2015 – The work party had to be cancelled because of bad weather. After the recent heavy rain it wasn't practical or safe to work. All the wood and metal work was very wet, and the ground adjacent to the canal very muddy and slippery.
Click on a link below to go directly to that month (or just scroll back up)
January February March April May June July August September October November