Milepost 59 / 33 is between Bridges 127 and 127A
This is a replacement milepost, being unveiled by the then Lord Mayor.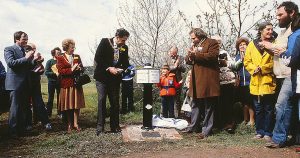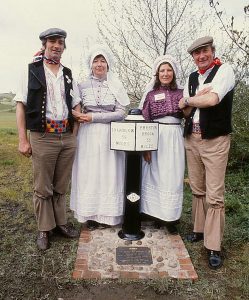 Posing by the Post – People in costume (above), Working Party Officers (below)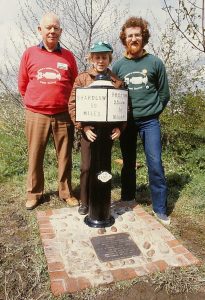 The plaque reads :
THIS MILEPOST WAS SPONSORED BY
ENGLISH CHINA CLAYS
REPLACED BY THE
TRENT & MERSEY CANAL SOCIETY
AND UNVEILED BY
COUNCILLOR JOHN WALLIS
LORD MAYOR OF STOKE ON TRENT
ON MONDAY 4TH MAY 1981
Here is the milepost in 2020, looking very much in need of care and attention.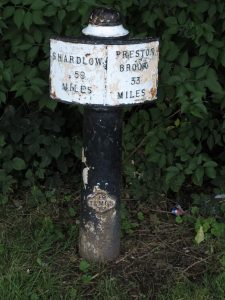 The plaque was nowhere to be found, but digging down we uncovered part of it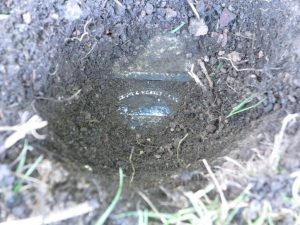 Below is a photo showing the hole we dug at the base of the post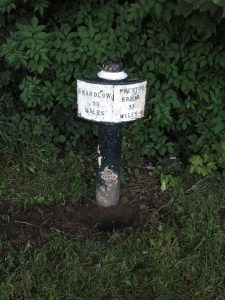 Comparing these photographs to those taken by Phil Myott in 2003, it looks like the ground level was raised when the cycle path was constructed and the plaque (on the plinth) was just buried, rather than being raised and rebuilt. To see Phil's pictures (in a new tab) click HERE and then click on any picture to enlarge it. Does anybody know whether our guess about the cycle path is correct, and why the plaque was just buried?
We carefully re-filled the hole and left the plaque safely hidden.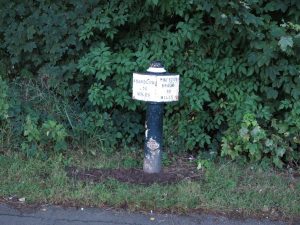 Page last updated August 2020
(Installation photos © Waterway Images.
All other photos © Roger Evans, unless otherwise shown)